HP LaserJet Enterprise M712dn printer
| | |
| --- | --- |
| BRAND: | HP |
| MODEL: | M712DN |
| FUNCTIONS: | PRINT |
| COLOR OUTPUT: | BLACK AND WHITE |
| PERFECT FOR: | ENTERPRISE |
| PRINT SPEED: | UP TO 40 PPM |
| FIRST PAGE OUT (READY) BLACK: | AS FAST AS 10.5 SEC |
| RESOLUTION (BLACK): | UP TO 1200 X 1200 DPI |
| MONTHLY DUTY CYCLE: | UP TO 100,000 PAGES |
| RECOMMENDED MONTHLY PAGE VOLUME: | 5000 TO 20,000 |
| DISPLAY: | 2-IN, 4-LINE LCD (COLOR TEXT AND GRAPHICS) |
| PROCESSOR SPEED: | 800 MHZ |
| NUMBER OF PRINT CARTRIDGES: | 1 (BLACK) |
| REPLACEMENT CARTRIDGES: | HP 14A BLACK LASERJET TONER CARTRIDGE (~10,000 YIELD) CF214A; HP 14X BLACK LASERJET TONER CARTRIDGE (~17,500 YIELD) CF214X |
| AUTOMATIC PAPER SENSOR: | NO |
| DUPLEX PRINTING: | AUTOMATIC (STANDARD) |
| NETWORK CAPABILITIES: | VIA HP JETDIRECT ETHERNET EMBEDDED PRINT SERVER (STANDARD) SUPPORTS: 10BASE-T, 100BASE-TX, 1000BASE-T; 802.3AZ (EEE) SUPPORT ON FAST ETHERNET AND GIG LINKS; IPSEC (STANDARD); 802.11B/G/N WIRELESS NETWORKING (OPTIONAL) |
| NETWORK READY : | STANDARD (BUILT-IN GIGABIT ETHERNET) |
| PORTS: | 1 HI-SPEED USB 2.0 DEVICE; 1 GIGABIT ETHERNET 10/100/1000 BASE-T; 1 HIGH-SPEED USB 2.0 EASY ACCESS USB; 1 HARDWARE INTEGRATION POCKET (HIP) |
| INTERNAL STORAGE: | STANDARD, 8 GB SOLID STATE DRIVE (SSD) |
| TOP KEY FEATURES: | FRONT-FACING USB PRINTING; TWO-SIDED PRINTING |
| MEMORY SLOTS: | ONE 144 PIN DDR2 DIMM SLOT |
| MEMORY: | 512 MB |
| MEMORY, MAXIMUM: | 1 GB |
| MEDIA SIZES SUPPORTED: | TRAY 1, 2: A3; A4; A5; B4 (JIS); B5 (JIS); TRAY 3: A3; A4; A5; B4 (JIS); B5 (JIS) |
| MEDIA SIZE, TRAY 3: | A3; A4; A5; B4 (JIS); B5 (JIS); 148 X 210 TO 297 X 431 MM |
| MEDIA SIZE, TRAY 1: | A3; A4; A5; B4 (JIS); B5 (JIS); 76.2 X 127 TO 312 X 469.9 MM |
| MEDIA SIZE, TRAY 2: | A4; A5;, B4 (JIS); B5 (JIS); 148 X 210 TO 297 X 363 MM |
| STANDARD MEDIA SIZES (DUPLEX): | A3; A4; A5; B4 (JIS); B5 (JIS) |
| MEDIA WEIGHT, SUPPORTED: | TRAY 1: 60 TO 199 G/M²; TRAY 2, 3: 60 TO 120 G/M² |
| MEDIA TYPES: | PAPER (COLOR, LETTERHEAD, LIGHT, PLAIN, PREPRINTED, PREPUNCHED, RECYCLED, ROUGH, TOUGH PAPER), BOND, CARDSTOCK, ENVELOPE, LABELS, TRANSPARENCY, VELLUM |
| MEDIA WEIGHT (TRAY 2): | 60 TO 120 G/M² |
| RECOMMENDED MEDIA WEIGHT (DUPLEX) : | 60 TO 120 G/M² |
| MEDIA SIZES SUPPORTED, KEY: | LETTER; LEGAL; 11 X 17 IN |
| OUTPUT CAPACITY: | UP TO 250 SHEETS |
| MAXIMUM OUTPUT CAPACITY (SHEETS): | UP TO 250 SHEETS |
| MEDIA TYPE AND CAPACITY, TRAY 3: | SHEETS: 250 |
| STANDARD OUTPUT CAPACITY (TRANSPARENCIES): | UP TO 250 SHEETS |
| MEDIA TYPE AND CAPACITY, TRAY 1 : | SHEETS: 100; ENVELOPES: 10; LABELS: 100; TRANSPARENCIES: 100; POSTCARDS: 10 |
| MEDIA TYPE AND CAPACITY, TRAY 2 : | SHEETS: 250 |
| PAPER HANDLING INPUT, STANDARD: | 100-SHEET MULTIPURPOSE TRAY, 2 X 250-SHEET INPUT TRAYS |
| PAPER HANDLING INPUT, OPTIONAL: | OPTIONAL 500-SHEET INPUT TRAY, OPTIONAL 1 X 500-SHEET PAPER FEEDER WITH CABINET AND STAND, OPTIONAL 3 X 500-SHEET PAPER FEEDER WITH STAND, OPTIONAL 3500-SHEET HIGH CAPACITY INPUT TRAY WITH STAND |
| INPUT CAPACITY: | UP TO 600 SHEETS |
| PAPER HANDLING OUTPUT, STANDARD: | 250-SHEET OUTPUT BIN |
| STANDARD OUTPUT CAPACITY (ENVELOPES): | UP TO 50 ENVELOPES |
| MAXIMUM INPUT CAPACITY (SHEETS): | UP TO 4600 SHEETS (CF239A (1X) AND CF243A CAN BE INSTALLED TOGETHER; NO OTHER INPUT ACCESSORIES CAN BE COMBINED) |
| STANDARD INPUT CAPACITY (ENVELOPES): | UP TO 10 ENVELOPES |
| MINIMUM SYSTEM REQUIREMENTS FOR MACINTOSH: | MAC OS X V10.6, 10.7; 200 MB AVAILABLE HARD DISK SPACE; OPERATING SYSTEM COMPATIBLE HARDWARE SYSTEM REQUIREMENTS, SEE APPLE.COM |
| MINIMUM SYSTEM REQUIREMENTS: | WINDOWS 10, WINDOWS 8, WINDOWS 7, WINDOWS VISTA, WINDOWS XP (SP2+), WINDOWS SERVER 2003 (SP1+), WINDOWS SERVER 2008, WINDOWS SERVER 2008 R2; 200 MB AVAILABLE HARD DISK SPACE; OPERATING SYSTEM COMPATIBLE HARDWARE SYSTEM REQUIREMENTS, SEE HTTP://WWW.MICROSOFT.COM |
| COMPATIBLE OPERATING SYSTEMS: | WINDOWS 10, WINDOWS 8, WINDOWS 7, WINDOWS VISTA, WINDOWS XP (SP2+), WINDOWS SERVER 2003 (SP1+), WINDOWS SERVER 2008 (32 AND 64-BIT), WINDOWS SERVER 2008 R2 (64-BIT); MAC OS X V10.6, 10.7; FOR THE LATEST OPERATING SYSTEM SUPPORT SEE: CITRIX AND WINDOWS TERMINAL SERVICES |
| OPERATING SYSTEM (SUPPORTED NOTE): | WINDOWS INSTALLER HAS THE SAME OPERATING SYSTEM SUPPORT AS THE DRIVER EXCEPT THE FOLLOWING: WINDOWS XP® SP2+ (32-BIT ONLY); WINDOWS® SERVER 2003 SP1+ (32-BIT ONLY); WINDOWS VISTA® STARTER NOT SUPPORTED IN DRIVER NOR INSTALLER |
| WEIGHT: | 38.5 KG |
| DIMENSIONS WITHOUT STAND (W X D X H): | 568 X 596 X 392 MM |
| PACKAGE DIMENSIONS (W X D X H): | 810 X 785 X 644 MM |
| MAXIMUM DIMENSIONS (W X D X H): | 858 X 989 X 392 MM |
| WARRANTY: | ONE YEAR |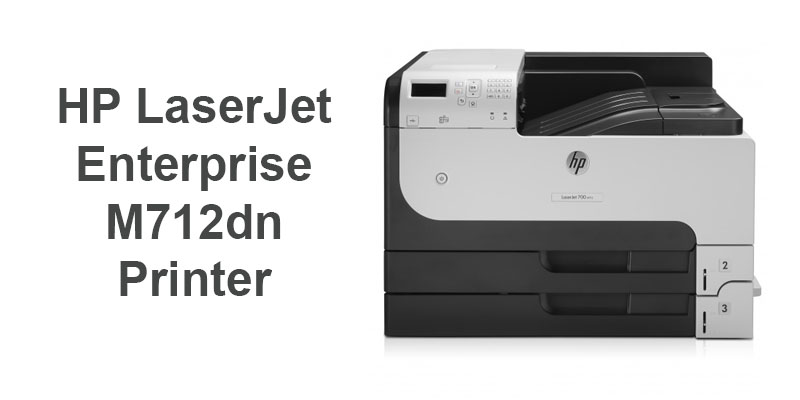 ---
HP LaserJet Enterprise M712dn printer
HP LaserJet Pro M712dn A3 Printer Is Very Popular In Bangladesh because of undermentioned reasons:
Display 2.0-in. color LCD screen

A3 support

Print right away with Instant-on Technology.

Centrally monitor and control your printers with HP Web Jetadmin.

Allows you to print on both sides of the page, cutting your paper use by up to 50%.

Print photos, documents, and more when you're on the go, using HP ePrint.

Make it easy for all to print with one common driver.

Help save energy with HP Auto-On/Auto-Off Technology.

Add this device to your office Ethernet network to share with your workgroup.