Canon Image Class Multifunction Color Laser MF641Cw Printer
BRAND:

CANON

MODEL:

LBP 641CW

FUNCTIONS:

PRINT, SCAN & COPY WITH WIFI

PRINTING METHOD:

COLOUR LASER BEAM PRINTING

PRINT SPEED:

A4: 18 / 18 PPM (MONO / COLOUR)

LETTER: 18 / 18 PPM (MONO / COLOUR)

2-SIDED:

PRINT RESOLUTION:

600 X 600 DPI

PRINT QUALITY WITH IMAGE REFINEMENT TECHNOLOGY:

1,200 (EQ.) X 1,200DPI (EQ.)

FIRST PRINT OUT TIME (FPOT):

A4 APPROX: 10.4 / 10.5 SEC (MONO / COLOUR)

LETTER APPROX: 10.3 / 10.3 SEC (MONO / COLOUR)

RECOVERY TIME: (FROM SLEEP MODE): 6.1 SEC OR LESS

PRINT LANGUAGE:

UFR II, PCL 6, ADOBE® POSTSCRIPT® 3™

PRINT MARGINS:

5MM – TOP, BOTTOM, LEFT AND RIGHT (ENVELOPE: 10MM)

PRINT FEATURES:

POSTER, BOOKLET, WATERMARK, PAGE COMPOSER, TONER SAVER

SUPPORTED FILE FORMAT FOR USB DIRECT PRINT:

JPEG, TIFF, PDF

PAPER INPUT (BASED ON 80G/M²):

250 SHEETS

PAPER OUTPUT:

100 SHEETS

MULTI-PURPOSE TRAY:

1 SHEET

PAPER SIZES STANDARD CASSETTE:

A4, B5, A5, LETTER, LEGAL, STATEMENT, EXECUTIVE, GOVERNMENT LETTER, GOVERNMENT LEGAL, FOOLSCAP, INDIAN LEGAL

CUSTOM (MIN. 76.2 X 127.0MM TO MAX. 216.0 X 355.6MM)

MULTI-PURPOSE TRAY:

A4, B5, A5, LETTER, LEGAL, STATEMENT, EXECUTIVE, GOVERNMENT LETTER, GOVERNMENT LEGAL, FOOLSCAP, INDIAN LEGAL, INDEX CARD. ENVELOPE: COM10, MONARCH, C5, DL

CUSTOM (MIN. 76.2 X 127.0MM TO MAX. 216.0 X 355.6MM)

PAPER TYPES:

PLAIN, THICK, COATED, RECYCLED, COLOUR, LABEL, POSTCARD, ENVELOPE

PAPER WEIGHT STANDARD CASSETTE:

60 TO 200G/M²

MULTI-PURPOSE TRAY:

60 TO 200G/M²

SCAN FILE FORMAT:

JPG, RAW (BMP), PNG, TIFF, PDF

SCANNER TYPE:

FLATBED

SCAN SPEED

SINGLE SIDED MONO: 27 IPM (300x600dpi)

SINGLE SIDED COLOUR : 14 IPM (300x600dpi)

SCAN RESOLUTION,

OPTICAL: UP TO 600X600 DPI

ENHANCED: UP TO 9600X 9600DPI

COPY SPEED

18/18 PPM (MONO /COLOUR)

COPY RESOLUTION

UP TO 600X600 DPI

COPIES, MAXIMUM:

UP TO 999 COPIES

MEDIA SIZES SUPPORTED:

LETTER(216 X 280); LEGAL(216 X 356); EXECUTIVE(184 X 267); OFICIO 8.5X13(216 X 330); 4 X 6(102 X 152); 5 X 8(127 X 203); A4(210 X 299); A5(148 X 210); A6(105X148); B5(JIS)(182 X 257); B6(JIS)(128 X 182); 10X15CM(100 X 150); OFICIO 216X340MM(216 X 340); 16K 195X270MM(195X270); 16K 184X260MM(184X260); 16K 197X273MM(197X273); POSTCARD(JIS)(100 X 147); DOUBLE POSTCARD(JIS)(147 X 200); ENVELOPE #10(105 X 241); ENVELOPE MONARCH(98 X 191); ENVELOPE B5(176 X 250); ENVELOPE C5(162 X 229); ENVELOPE DL(110 X 220); A5-R(210 X 148)

MINIMUM SYSTEM REQUIREMENTS:

WINDOWS® 10, 8.1, 8, 7: 32-BIT OR 64-BIT, 2 GB AVAILABLE HARD DISK SPACE, CD-ROM/DVD DRIVE OR INTERNET CONNECTION, USB PORT, INTERNET EXPLORER. WINDOWS VISTA®: (32-BIT), 2 GB AVAILABLE HARD DISK SPACE, CD-ROM/DVD DRIVE OR INTERNET CONNECTION, USB PORT, INTERNET EXPLORER 8. WINDOWS® XP SP3 OR HIGHER (32-BIT ONLY): ANY INTEL® PENTIUM® II, CELERON® OR 233 MHZ COMPATIBLE PROCESSOR, 850 MB AVAILABLE HARD DISK SPACE, CD-ROM/DVD DRIVE OR INTERNET CONNECTION, USB PORT, INTERNET EXPLORER 8. WINDOWS SERVER SUPPORT IS PROVIDED VIA THE COMMAND LINE INSTALLER AND SUPPORTS WIN SERVER 2008 R2 AND HIGHER.

TONER CONSUMABLES:

CARTRIDGE 054 BK: 1,500 PAGES

CARTRIDGE 054 CMY: 3X1,200 PAGES

MONTHLY DUTY CYCLE:

30000 PAGES

DEVICE MEMORY

1 GB

DIMENSIONS (W X D X H):

451 X 460 X 360MM

WEIGHT:

16.8 KG

WARRANTY :

1 YEAR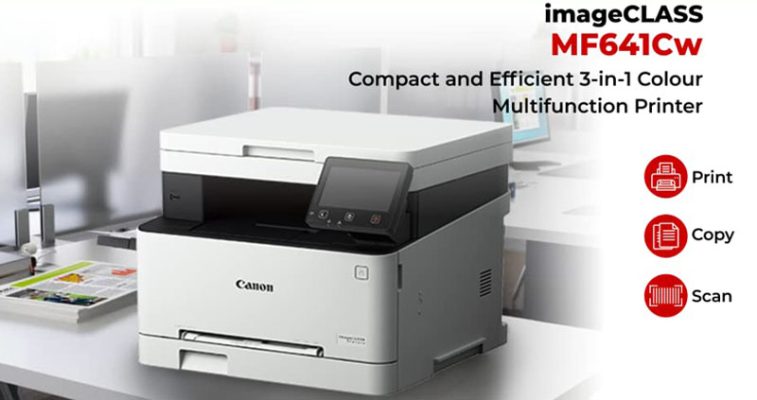 ---
Canon Image Class Multifunction Color Laser MF641Cw Printer
Canon Image Class LBP 641Cw Printer Is Very Popular In Bangladesh Because Of Undermentioned Reasons:
* 5″ intuitive color touchscreen with smartphone-like usability.
* A unique, customized device experience with Application Library.
* Create Wi-Fi® Direct hotspot from the printer to establish a direct connection to compatible mobile device(s) without the need for an external router.
*Canon's signature reliability and engine technologies help keep productivity high and minimize the impact on support resources.
*Intuitive maintenance videos for common tasks like consumables replacement.
*Supports mobile solutions1 for printing and scanning.
Scan and convert documents to searchable digital files through a letter-sized platen glass.
*Designed for small print jobs with first-print time as fast as 10.3 seconds.
*High-capacity, all-in-one cartridge helps reduce overall supply costs.
*Service parts are designed for machine's life cycle to help minimize need for proactive maintenance and to help reduce service calls.
*Helps mitigate risk of confidential information loss as documents are only stored in short-term memory.
*Security settings can be set behind an administrator log-in.